Welcome to Skyside, where we blend our background in VIP and HNWI servicing with the comfort and convenience of corporate apartments. With over 20 years of experience, we offer a seamless travel experience that is both safe and enjoyable. With a strong commitment to environmental, social, and governance (ESG) compliance, our apartments are more than just a place to stay—they're a step towards a more sustainable future. Browse our properties or get in touch today to experience the Skyside difference.
Skyside stands as a trusted partner for exceptional living experiences. Our legacy of over 20 years in the VIP and HNWI sectors in Luxembourg and London has equipped us with the expertise to provide a comfortable, seamless, and delightful stay.
We take pride in offering personalized service, featuring a 24/7 concierge and a meet-and-greet check-in. Our team understands the diversity in guest needs and preferences, and we fine-tune our services to match. Acknowledging the bond many families share with their pets, we have ensured pet-friendly accommodations in many of our properties.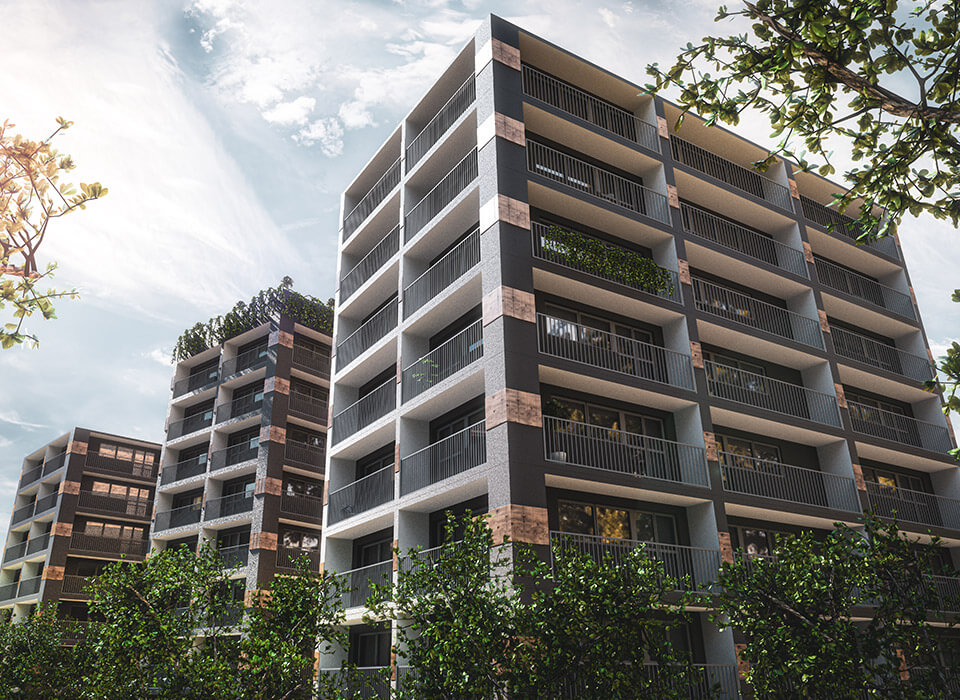 Our Commitment to Sustainability
At Skyside, we're more than just a corporate apartments operator — we are deeply committed to sustainability and creating a greener future. Recognizing the significant impact of housing on carbon emissions, we ensure all our properties adhere to the highest standards of energy efficiency. Many are even built to passive house standards, one of the most rigorous voluntary energy performance standards in the industry.
But our commitment doesn't stop there. We continuously seek out and implement the latest energy-saving technologies, going above and beyond recommended industry standards. By choosing Skyside, you're not only opting for a comfortable and luxurious living experience, but also contributing positively to our planet. We firmly believe that sustainable living and luxury can coexist, and we're here to demonstrate just that.
Our Apartments & Services
Skyside offers a range of apartments to suit your needs, from studios to six-bedroom properties. Each of our properties, located in prime areas of Luxembourg such as Kirchberg, Limpertsberg, Belair, and Hollerich, is furnished to the highest standard and equipped with top-tier amenities for your comfort.
What truly sets Skyside apart is our commitment to service. We understand that it's the little things that make a big difference. That's why we offer a host of services to ensure your stay is as comfortable as possible. From a personalized meet and greet at check-in to pre-arrival shopping, we aim to make your transition as smooth as possible. Our dedicated 24/7 concierge service is always on hand to assist you with any needs you may have during your stay. In addition, our offer includes parking and weekly cleaning services, ensuring your home away from home is always well-maintained and sparkling clean.
At Skyside, we aim to provide more than just a place to stay—we strive to offer a unique and comfortable living experience that meets your highest expectations.
Keep an eye on our Blog/Resources section for distinctive insights and invaluable information, all tailored specifically to our clients. Whether you're seeking advice on relocating to Luxembourg, tips for living sustainably in an apartment, or simply curious about local culture and attractions, we've got you covered. Our expert articles and guides are designed to help you navigate your new surroundings with ease and enjoy the full Skyside experience. Stay updated, stay informed, and make the most of your stay with Skyside.
Ready to experience the Skyside difference? Get in touch with us or use our convenient booking form to secure your apartment. Whether you're traveling for business, relocating, or simply seeking a comfortable place to stay, we're here to make the process as smooth as possible. Reach out today—we look forward to welcoming you to Skyside.